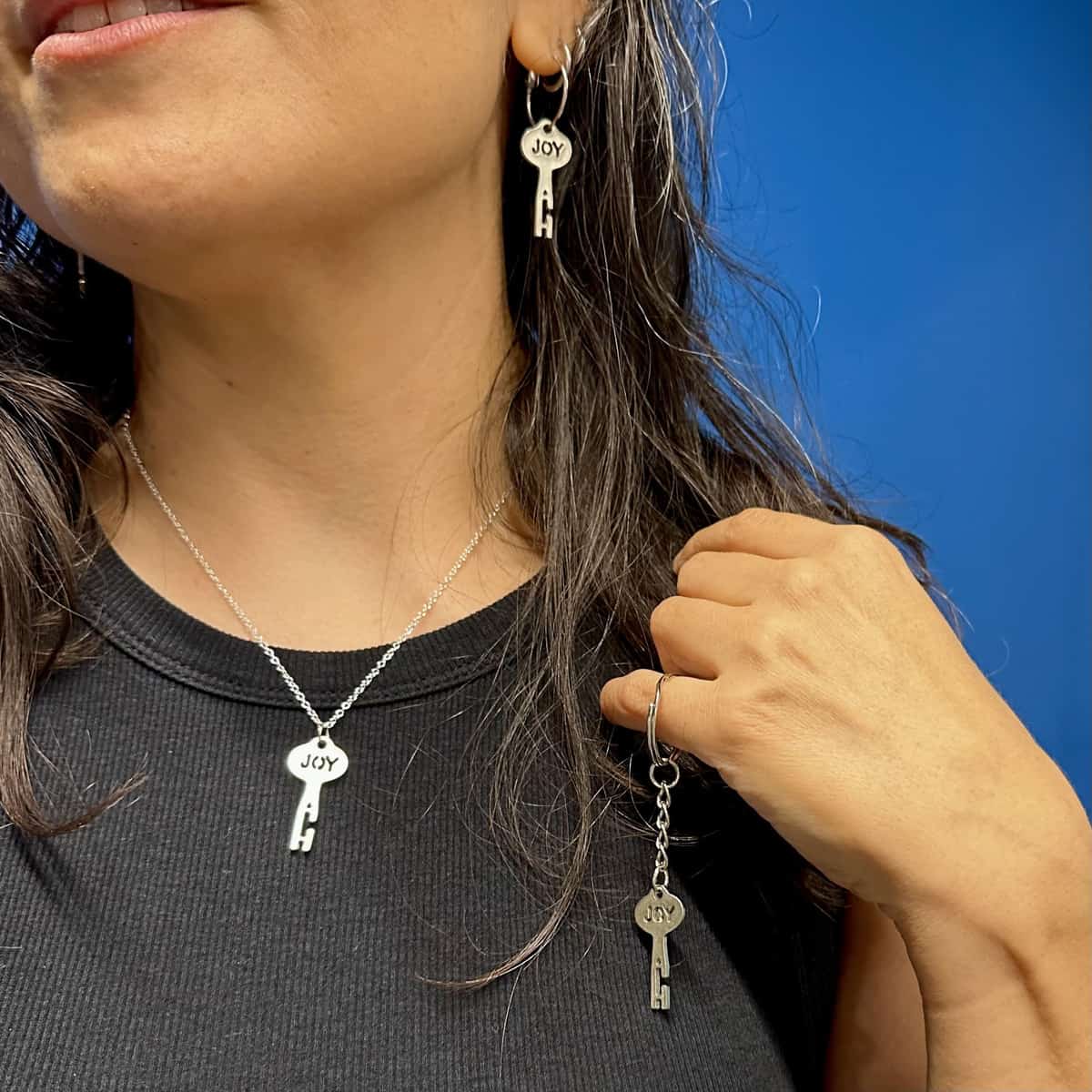 Joy is the KEY! Joy Keys are beautiful as pendants, key chains and earrings. They are all gorgeous, shining reminders to seek, find and focus on joy
This Law of Attraction jewelry design is Inspired by Abraham-Hicks. Do you see the secret message in the teeth of the key? 
Details
> Joy Keys available in solid sterling silver, silver plated and 14 karat gold. 
> Nice gold jewelry is heirloom quality, 14k Vermeil plating to last lifetimes.
> Pendants arrive on a simple, complimentary base-metal, silver-plated chain.
> Upgrade your chain to .925 or 14 karat gold fill are available. Email or leave a note at check out to inquire. 
> Easily transfer pendants from the complimentary chain to your favorite chain, or upgrade as noted above. 
> Earrings arrive on simple, loop earrings, easy to switch to your favorite hoops at home. 
> Keychains are also available, of course! They are a simple, classic nickel plated split ring and chain.
Why is Joy the Key? For the answer, go straight to the source (pun intended) at Abraham-Hicks.com. Learn how simply reaching for the better feeling thought can change what comes next. 
Every purchase helps buy Sara books which are donated to children's libraries. This wonderful children's book is written by the source of inspiration: Abraham-Hicks.
With your Joy Key order, please include a message with an inscription for the Sara book which is donated, thanks to you. I'll hide your uplifting message in the margins for kids to find when they check out the library book. Shhhh! :)  
An extra special gift with Joy Keys: Every purchase includes a complimentary reading from the Abraham-Hicks well-being card deck. Your Joy Key is shipped with the card which I'll draw in a reading just for you. 
 If you're curious about Law of Attraction, check to see if you have access to the Blog post just yet. To receive early access to special posts and promotions, sign up for A Nice News in the footer of this website. 
---