From a Vision to a Fundraising Jewelry Collection
This journey began with the inspiration drawn from Tim Ballard, Founder of Operation Underground Railroad (O.U.R.). In early 2023 I was invited by an inspiring friend to join her for an event in Sedona. It was a workshop by Kyle Cease/Evolving Out Loud called "Freeing All Children, Inside and Out."

It's always a good idea to say YES when the universe presents an opportunity, isn't it? YES. In preparation, I was watching a recorded interview with Tim and Kyle Cease. To say the least, it ignited a spark. I was blown away by the message, the vision and the importance of O.U.R.
As a designer, I fell in love with the gorgeous symbolism of O.U.R.'s logo – an intricate chain of O-U-R with each of the letters opening link by link. The image resonates deeply as a vision of freedom. It was a vision I couldn't resist sculpting and the A Nice World homage came to life. I quickly cast three in sterling silver JUST in time for the Kyle Cease event in Sedona AZ, where Tim would speak and the event's funds would be donated to O.U.R.
Pendants with Purpose
At the Sedona workshop, the vibe was high with the crowd gathered for the Evolving Out Loud / Kyle Cease event. It was a thrill to meet the O.U.R. team of staff and volunteers who were there as  beneficiaries of the fundraising event.
I'll never forget first showing the design, and that rush of excitement when they loved it. Oh that amazing feeling knowing that Tim Ballard himself would soon be holding one in his hand. Encouragement from the OUR team fueled my fire to move forward and create a line of O.U.R. philanthropic jewelry.
I'm proud offer it and honored to be an official Artist at  "Art for OUR." This nonprofit organization is a powerful force, fundraising more than $100,000 to eradicate human trafficking, and counting.
The wave of change continues to rise. From the Sedona event in March 2023, (which raised more than $300,000 for O.U.R), to the upcoming Utah fundraiser in October 2023, the momentum builds. The power of unity, creativity, and compassion propels us forward, as we strive to amplify the impact of OUR's mission.
Wearable Symbols of Hope
With each purchase from the OUR Rescue Fundraiser Jewelry collection, you're not just buying a piece of jewelry – you're contributing to a mission of liberation. These symbolic adornments embody hope and solidarity. 
Whatever you do to uplift the world, in whatever way you love to do it, you can make a difference. Every link in the chain matters and every connected person adds strength to the group as a whole. Together, we shine light to a world where the darkness of human trafficking is replaced by new beginnings, joy and true freedom. 
Discover the heart of OUR's mission by visiting www.OURrescue.org. Follow their stories to see the inspiring initiatives powered by your contributions.
- XO Jill


The blog, Continued.... 
INSPIRATION SOARS with the story of Gardy Mardy.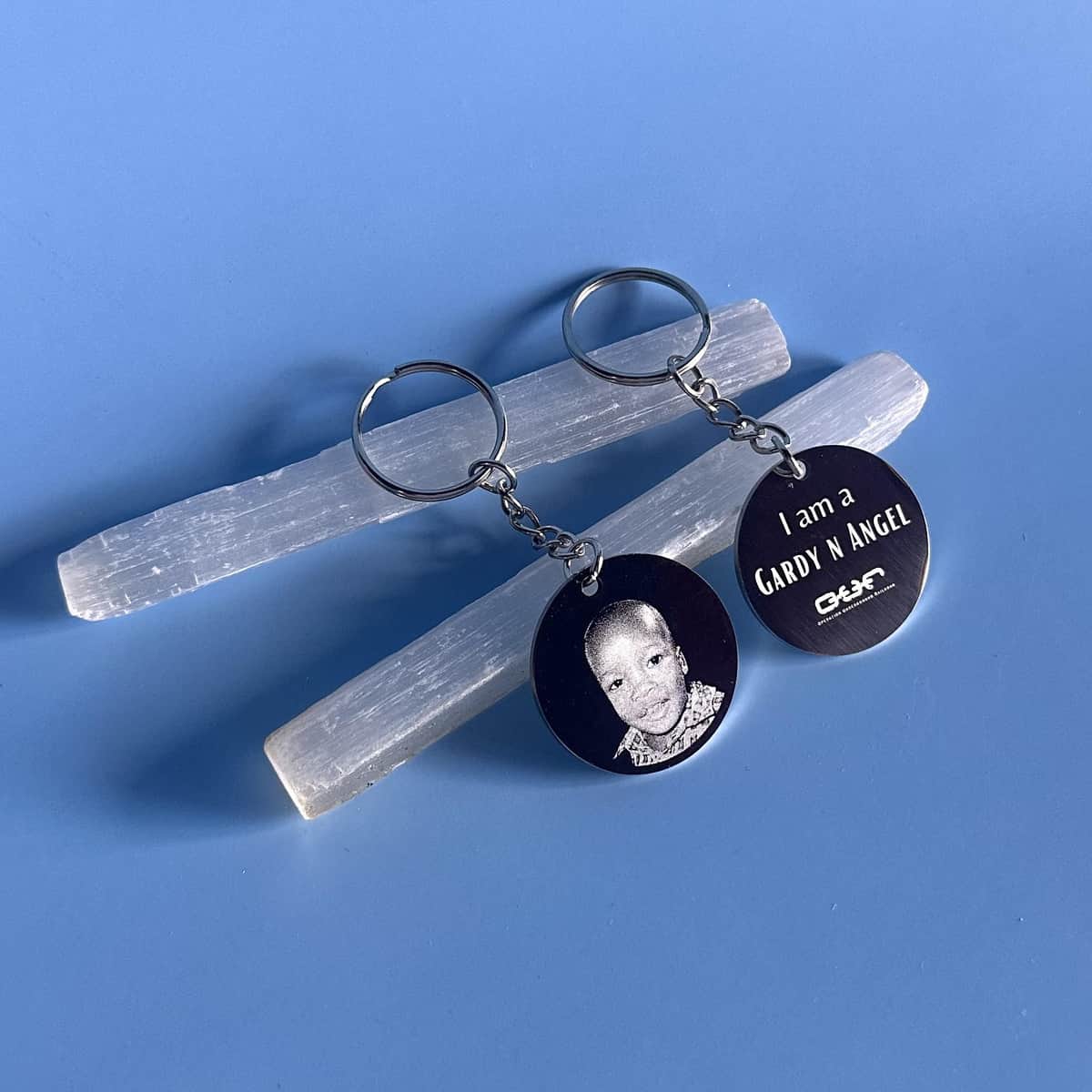 Amidst the event's vibrant energy and shared enthusiasm,  inspiration continued to grow. It led, eventually, down the path to a second design in the O.U.R Rescue collection.
On day two of the seminar, Tim shared the story of Gardy Mardy, a young Haitian boy. Tim recounted the story of a missing boy named Gardy and his pivotal role in the genesis of Operation Underground Railroad (O.U.R.).
The story of Gardy and his father is best told by O.U.R. in their online series on Gardy. I couldn't dream to do justice to the tale, but my seminar notebook brims with thoughts on bravery, hope, kindness, friendship, and choosing to focus on the good in the face of so much bad. 
In the biggest, boldest letters in my notebook are the words GARDY N ANGEL. The words are accompanied by a sketch of this themed keychain. Tears rolled as I realized the potential of this design. In the reflection of the piece we see Gardy's face as well as our own. Holding this petite silver mirror, we can affirm, "I am a Gardy n Angel." 
What can we do to help?
We can visualize Gardy enveloped in safety, comfort and joy.
We can extend this imagery to encompass all children, all people across the globe. We can see them basking in health, happiness and LIBERTY.
Watch the movie, "Sound of Freedom" (no-cost tickets available online).
Donate directly, choose Nice O.U.R. philanthropic jewelry and shop at "Art for O.U.R." to make a difference. 
These are just a few of the ways we can all help build momentum in this global wave toward freedom for all.